GRAPHIC DESIGN
Identity & Branding
Identity Design
All it takes is an idea to get started!
We are excited to work with clients coming to us with only a concept or those with a long standing logo or business identity looking for a fresh new look. We've worked from concepts simply scribbled on the back of a cocktail napkin to color drawings with specific color requirements.
Let our team turn your concept or drawing in to a digital design which can be converted to many different file formats allowing you to obtain consistency in your brand across any media.
Did you know the color of your logo, stationery, and typeset all play a part in how you are perceived as well as set a tone for your business? Whether on the web, in print, or other medium, we have the expertise and network to not only get it done, but done right, and in a cost effective manner!
We've worked with clients in many business sectors to help define or redefine their identity packages, create a branding buzz, or develop and launch a full scale brand awareness initiative.
View examples in our Design Portfolio
Print Design
logos • business cards • letterhead and envelopes • signs & banners • advertisements • promotional items
Our studio has an extensive array of design tools to address your needs. We are capable of producing layouts for posters, fliers, handouts, brochures, presentations, press ads and more.
We start by making sure clients can clearly communicate their goals, budget, target market and define a delivery deadline.
From here, if needed, we help with the selection of one or more mediums and formats most closely aligned with your campaign strategy.
Next is the layout and design which depending on the complexity of the project may require a few rounds or revisions should the goals evolve during the production cycle.
We offer a final product in a variety of digital formats and can provide you with print ready files which to may take to a printer of your choice.
Should you not already have a relationship with a printer, we can help you select the most appropriate choice from our extensive list of trusted vendors.
It's important to understand that not all printing is the same and it requires a specific skill set to evaluate the selection of the right printer for your job. Considerations include the type of paper, process being used (digital vs. offset), quantity, turn around, shipping & handling, etc. We believe in supporting local print shops when ever possible, but also realize in certain situations a large internet based printer may be a valid consideration.
Contact Us To Learn How
Frequently Asked Questions
Video in Print
While video is undoubtedly the most engaging advertising medium available today, print advertising has been the gold standard. It's portable and easy to view and distribute. As Grey Goose Graphics we are proud to offer our clients Video in Print.
Combining print and video in one vehicle is a powerful and cost effective vehicle that will engage your audience, drive awareness and deliver results.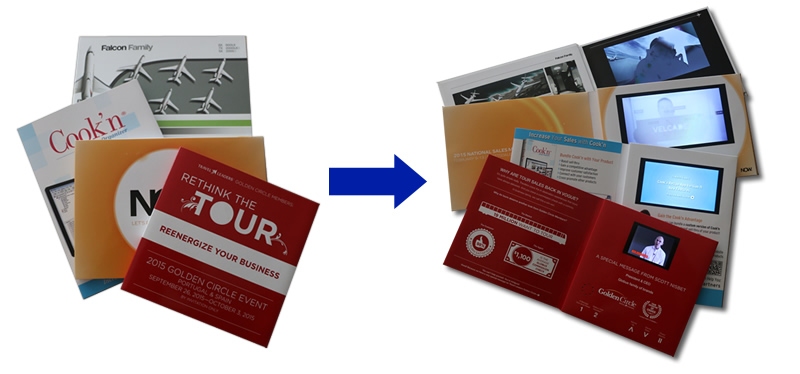 Augmenting your print materials with custom video can be used in many areas:
Sales and Transactional Promotion
Prospecting or expanding current client revenue streams
Trade show Promotional Items
Personalized and Custom video targeted to groups and/or individuals
Product or Service awareness or education
Birthday Wishes, Holiday Greetings or Thank Yous to clients, family or friends.
Special Announcements and Invitations
Video in Print is a flexible and affordable delivery device.
Multiple LCD Displays and custom printing options
Customizable Player Buttons
Rechargeable and Re loadable
Multiple Storage options including SD Card integration for easy end user upgrading
Flexible ordering and minimum quantity requirements
WHY YOU SHOULD OBTAIN VIDEO IN PRINT FROM GREY GOOSE GRAPHICS...
Not all systems are the same. From LCD resolution and color capabilities, to recharging capacities, memory configurations, we have access to the leader in this technology.
We have a relationship with the Manufacturer. (This allows us to get great service, shorter turn around times, and bottom line pricing.)
We can manage your project in one place. Our design team can handle the print, video and integration into this platform.
It's important to understand that while their are many vendors providing video in print across the globe, not all are equal. Let us help you navigate through the maze of options!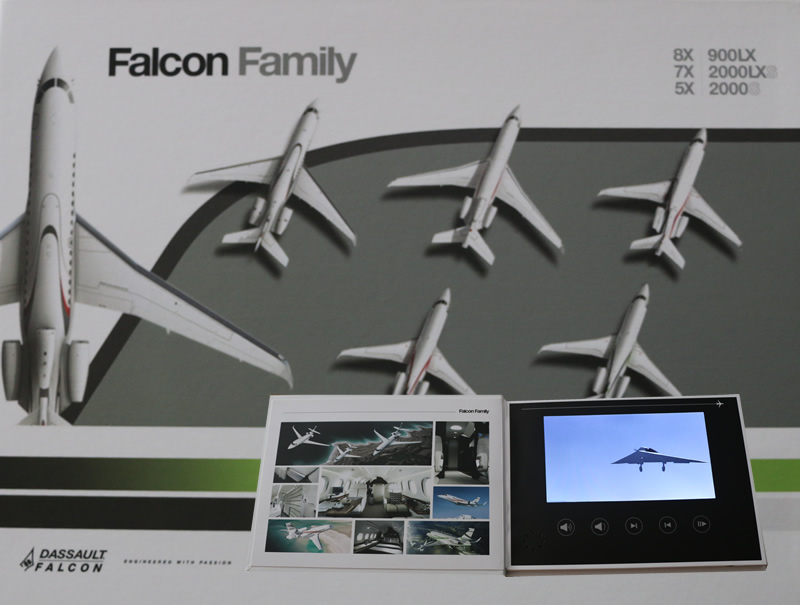 Other Design Services
Other Design Services
We are proud to offer our clients the ability to use many other mediums for their marketing campaigns.
From screen printing and embroidered products to vehicle wraps, billboards, or trade show displays, we've done it!
We have a network of printers and specialists who can work with anything from paper or canvas to plastics, metals, or vinyl. The possibilities are endless.
It's important that the final production be closely tied to the marketing strategy and/or campaign. To many times we see companies ordering promotional materials or products for a trade show that have absolutely nothing do do with their project other than they are able to obtain them at an affordable price point. If you or your team is struggling with developing a cohesive plan, we can help!
Do you have a unique project or something that is holding up your campaign? Contact us today and learn more about what we can do for you.
View examples in our Design Portfolio